Butterfly Valves Manufacturers, Suppliers, & Stockist in India
D Chel Valves are the leading Butterfly Valves Manufacturer in India. One of our popular products in the Metal Market is Butterfly Valves. These Butterfly Valves are available in a variety of sizes, forms, and dimensions, and can also be customized to meet the needs of our customers. D Chel Valves Supply and provides solely quality tested Double Eccentric Butterfly Valves. Butterfly Valves at D Chel Valves bear several toughness and hardness check before provision it to our purchasers. Our Butterfly Valves and Its types are manufactured according to International ASTM/ASME, ANSI, API, DIN Standards in India.
Butterfly Valves Manufacturers, Butterfly Valves Suppliers, Butterfly Valves Stockists, Double Eccentric Butterfly Valves Manufacturer, Hydraulic Counterweight Butterfly Valves Supplier in Mumbai
Our high-quality range of Stainless Steel Double Eccentric Butterfly Valves is exclusively designed for petrochemical industry, chemical industries, steel factories, fire protection systems, shipping industries, etc. Butterfly Valves and its types are designed and developed in accordance with the international quality standards. Stainless Steel Butterfly Valves that are precision engineered using the best quality raw material. We also customize Double Eccentric Butterfly Valves and other types as per the requirements of the clients. We are also leading supplier of Ball Valves in India
Butterfly Valves Manufacturer: Types of Butterfly Valves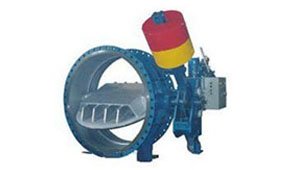 Hydraulic Counterweight Butterfly Valves
Product Description: Hydraulic Control Slow Closing Non-return Butterfly Valve, Normally named as Hydraulic Counterweight Butterfly Valve is used for management on Controlling Equipment's.
Characteristics: Can replace the functions of Gate Valve or Check Valve.
Size range: DN150-DN400.
---
About Butterfly Valves, Double Eccentric Butterfly Valve, Hydraulic Counterweight Butterfly Valves
Butterfly valves are generally preferred because they cost less than other valve designs, and are lighter weight so they need less support. The disc is positioned in the center of the pipe. A rod passes through the disc to an actuator on the outside of the valve. Butterfly Valves is a Valves which isolates or controls the flow of a fluid. Butterfly Valves closing mechanism is a disk that rotates Its operation is similar to that of a Butterfly Valve, which allows for quick shut off. Butterfly Valves are generally preferred because they are cost-effective than other Valve designs, and are lighter in weight so they need less support.
Clients Projects for Butterfly Valves Supplier in India
Our Butterfly Valve are impeccable in quality and that is why are loved widely by our large clientele. Stainless Steel Butterfly Valve produced by D Chel Valves are used in various different projects worldwide. We have clients with regular demand for Butterfly Valve in 5 different countries and we export Hydraulic Counterweight Butterfly Valve to additional 35+ countries.
| | |
| --- | --- |
| Butterfly Valves Supply in Chemical Industries | Rajasthan |
| All types of Butterfly Valves supply | Gujarat |
| Double Eccentric Butterfly Valves | Navi Mumbai, Maharashtra |
| Hydraulic Counterweight Butterfly Valves | Vijaywada, Hyderabad |
Additional Information: Butterfly Valves Packing & Delivery Details
Pay Mode Terms: L/C (Letter of Credit), T/T (Bank Transfer), Other
Port of Dispatch: Mumbai OR KALAMBOLI India
Packaging Details: Valves are given marking, painted with black japan or black Board (Mat Finish) & will be packed in a bagging bag with stickers written with size, grade & quantity.
What is an advantage of a butterfly valve?
Answer : They are small and quickly open and close pneumatically when activated because they resemble ball valves. A butterfly valve's actual disc is lighter than a ball and requires less structural support than a ball valve with the same diameter.
Dchel Valves is the best in business of Butterfly Valves Supplier in India.
Products dependability and performance have created Dchel Valves leading suppliers and manufactures of Stainless Steel Butterfly Valves in India. Each month we tend to supply/export Butterfly Valves to Indian port with around fifty-three containers to completely different customers.
Due to giving a prime quality of Butterfly Valves at lower costs with the easy services, we've our sales representatives at most of the important cities of India that are:
Bengaluru
Mumbai
Chennai
Hyderabad
Kolkata
Pune
New Delhi
Ahmedabad
Jaipur
Agra
Bhagalpur
Jamshedpur
Bhilai
Lucknow
Angul
Gwalior
Surat
Salem
Gandhinagar
Bhiwandi
Tiruppur
Sivakasi
Jamnagar
Thiruvananthapuram
Rajahmundry
Coimbatore
Kannur
Nagpur
Vadodara
Rudrapur
Noida
Bhubaneswar
Vijaywada
Firozabad
Bokaro Steel City
Rajkot
Bharuch
Panna
Raipur
Cochin
Ludhiana
Panipat
Durgapur
Visakhapatnam
Trivandrum
Pithampur
Dibrugarh
Peenya
Pimpri-Chinchwad
Channapatna
Kharagpur
Nashik
Bareilly
Varanasi
Haldia
Rourkela
Navi Mumbai
Moradabad
Indore
kanpur
Thane
Bhopal
Dchel Valves is the best in business and world Leading dealers of Butterfly Valves Exporter in Countries.
Our high quality of Butterfly Valves, sensible client service, and in-house Butterfly Valves processing capabilities have made us one of the emerging and leading suppliers for Butterfly Valves in India. Our Stainless Steel Butterfly Valves area unit exported frequently to over Fifty countries. Over the last eight years, we tend to had equipped over 2200+ plenty of Butterfly Valves to India. We also Accept customized Butterfly Valves orders ready as per the urgent requirements of the customers.
Saudi Arabia
Oman
Kuwait
Netherlands
Iran
Bahrain
Qatar
UAE
New Zealand
Nigeria
Mexico
Canada
Venezuela
United Kingdom
United States
Africa
South Africa
Malaysia
Bangladesh
Turkey
Singapore
Sri Lanka
Australia
Brazil